This is an explanation or definition, if you will, of what NW (Northwest) Ekklesia is. We are not a separatist group. Everyone is welcome. The true definition for Ekklesia is, "called out ones for the purposes of kingdom government."  At this time, we recognize two kinds of kingdom government (there may be more). The first and most recognized are people who work in and through the courts of Heaven. The second are people who come into clear understanding of who they are in Christ with regards to their purpose and the plans God has for them.
Our mission statement and key verse from scripture is Jeremiah 6:16, Thus says the Lord: "Stand by the roads and look, and ask for the ancient paths, where the good way is; and walk in it, and find rest for your souls." (NIV)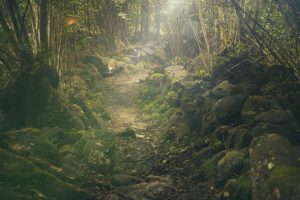 What's an ancient path? The Hebrews thought much differently than most people in our culture. Life was full of cycles. The center of life was coming full circle back to the original event or events. We find it recurring on a consistent basis amongst the community of believers who identify with NW Ekklesia. We are a movement, not an organization. We are the people of God in the northwest.  We are intentional about manifesting Heaven on earth; sealing the one to the other. God has an original intent and function for us. We find it by seeking Him; and living by our spirit man, not by our flesh. Simply, an ancient path is living in relationship with the Lord, as God originally intended at our creation.
The past few sentences are a great concept but what does it really look like?
SEEK
"Stand by the roads and look" relates to Matthew 6:33 "But seek first the kingdom of God and his righteousness." (NIV) This is the entrance, door, or portal (call it what you like) to true mysticism. Now don't get in a panic as we discuss this topic. The word mysticism is a word that has lost its reputation because of the misuse by various religions. True mysticism is a truth revealed by God. Through revelation, God expands the topic of that truth and gives us wisdom and confirmation that it's true. Many times the fruit of the truth is a new sense of freedom and a new sense of peace in our lives. Why is this important? Because NW Ekklesia places no man between us and God. We face the living God and grow in intimacy with Him. The last phase of being a mystic is a burning desire to share what we've learned and the sharing brings fuel to fellowship. Simply, we can hardly wait to get together so we can share what's happening in each other's lives.
Why is mysticism important for renewing ancient paths? It's the tool that leads us to the ancient path.
We have confirmation of these truths through God's words. Even though we know that Ezekiel 28:14 refers to the fall of Satan, the point of the fiery stones was to know "God's will."  (To save time, you can find more about the topic by doing an internet search.) If we "stand by the roads and look" or "seek first the Kingdom" or walk the path amongst the "fiery stones," what are we going to find?  Him! His truth!  The crux of this discussion is Matthew 7:7-8 "Ask, and it will be given to you; seek, and you will find; knock, and it will be opened to you.  For everyone who asks receives, and the one who seeks finds, and to the one who knocks it will be opened." (NIV) The primary focus of this scripture is the stuff of which the Kingdom is made; the spiritual and the eternal truths.
THE GOOD WAY
Multiple scriptures exhort us to ascend. How do we ascend? By using our abilities in the spirit to see and imagine into the Kingdom of God. Ascending is just as important as seeking. In fact, many times when you seek, what you are truly doing is ascending. Here are a few supporting scriptures.
Rev 4:1, "After this I looked, and there before me was a door standing open in heaven. And the voice I had first heard speaking to me like a trumpet said, 'Come up here, and I will show you what must take place after this.'" (NIV)
Rev 11:12, "Then they heard a loud voice from heaven saying to them, 'Come up here.'" (NIV)
Isaiah 2:3 and Micah 4:2, "People from many nations will come and say, 'Come, let us go up to the mountain of the LORD, to the house of Jacob's God. There he will teach us his ways, and we will walk in his paths.'" (NIV)
WALK IN IT
Most of us, by scripture's definition are called carnal believers. We live by the desires of our souls. We seek temporary comfort rather than eternal. However, when we have learned enough and are now living in truth, our spirit takes the lead in our lives. We see the evidence of this in Galatians 5:22-23 "But the fruit of the Spirit is love, joy, peace, patience, kindness, goodness, faithfulness, gentleness, self-control; against such things there is no law." Think of replacing the phrase "the fruit of the spirit" with the word maturity. Now read the scripture. But, maturity is love, joy, peace, etc. That's what happens when our spirit grows strong and leads our soul and body.
SEAT OF REST
When we start living by our spirits, we find Jehovah Shalom. We actually learn to function in rest. This kind of peace and rest is very powerful. Hebrews 4:9-10, "So then, there remains a Sabbath rest for the people of God, for whoever has entered God's rest has also rested from His works as God did from His."
Continuing on with Hebrews 4:11-12, "Let us therefore strive to enter that rest, so that no one may fall by the same sort of disobedience. For the word of God is living and active, sharper than any two-edged sword, piercing to the division of soul and of spirit, of joints and of marrow, and discerning the thoughts and intentions of the heart."
We pray that everyone learns to live by the elements of Jeremiah 6:16. But, what do we do with this new lifestyle? We live a kingdom life and operate under kingdom government.
KINGDOM GOVERNMENT
This will shock many people but gone are the days of recognizing those titled, prophet, pastor, apostle, etc. Our culture is prone to put people on pedestals thereby removing their ability to function amongst us. Paul's friends and disciples where not in awe of the fact that he was an apostle. They honored how he functioned amongst them. The Kingdom of Heaven is about function more than titles. We need to live by the example set before us in history and the Word of God.
The Father, Son, and Spirit are one and, also a team. Unity and function come together seamlessly. When Jesus was on earth, He was a team player with the Father and Holy Spirit. Jesus built a team to function when He physically left the earth. As an example, we find a type and a shadow from the Old Testament. Rabbis of the Old Testament where judges.  They would sit on a bench together to hear issues and deliberate. Synagogues usually had a bench of three judges to lead them (like the trinity).  Modern court organization comes from this example. In a court room, we call the raised desk the judge sits at "the bench" and the judge tells people to approach "the bench." That's the way NW Ekklesia functions. Nothing is managed by a single leader. Gone is the use of the high stress position of a single leader called the Senior Pastor.  In fact, we hardly ever use the term pastor. Most the time we say mentor because of the perceived concepts of this position.
This is Kingdom work. We don't judge people. We judge spiritual issues and put legislation in place to see the manifestation of Heaven on earth.
There's so much more to tell you. But, this should give you a good start about this new move of God. If there's a pulling within you to participate, we'd love to have you join us.