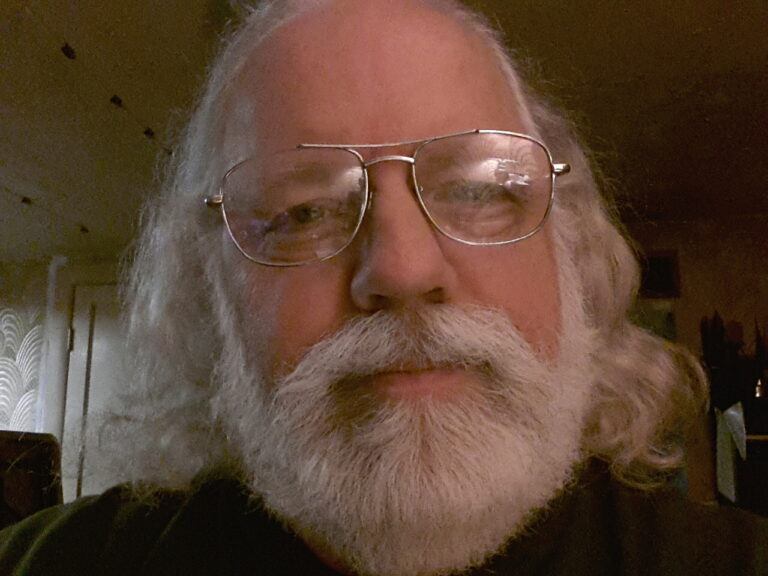 Hi, I'm Lew Curtiss, a visual artist and budding author working here in Seattle, Washington.
Born and bred here, I studied filmmaking and theatre at Washington State University. And while I've always done creative work I was forced by life's obligations to shelve my creativity for several decades.
I came back to making art late in 2007 only to discover that Father God had a plan to lead me away from the performing arts and into visual artmaking. I went from working on large scale productions to becoming a studio artist. I love the simplicity. In the studio, it's just God and me working alone. And because I am self-taught, my art practice is a source of constant exploration and discovery.
Finding Ekklesia
Also in 2007, I finally left the regular church for good, taking my love and faith in Father God with me. It wasn't God who caused me to go. It was the institutional church of organized religion that was amiss for me. You can read my full story in my book, Table of Making if you like.
Instead of wandering away from fellowship altogether, Beloved Father lead me to discover NW Ekklesia; a community of people living in relational-faith with God. As Anna Wingate, a founder of NW Ekklesia is fond of saying, "We're passionately in love with God and passionately in love with one another." In this Ekklesia, I have found genuine love and faith and have been growing spiritually ever since.
In this community, I have also discovered a convergence of faith and art, something I've been looking for all during the previous decade. I am thriving in this new milieu where most of my involvement centers around art.
Book Writing
The discovery of the convergence of faith & art is so essential that Father God asked me to write a book about it; Table of Making. He and I have two more books in active development. Scheduled for publication in late 2019, Urban Monastic is the direct result of Father inviting me into a simpler, more peaceful life. Finding Ekklesia is expected to be published by the end of 2020 and will be all about my journey of Ekklesia.
Artmaking
In art-making, I have found my way into collage/mixed-media. The latest series of work came as a gratis commission to all interested artists of NW Ekklesia. Based on the teachings of our mentor, Mike Parsons, the Angelic Sentinels are four orders of angels; Transformation, Sound of Many Waters, Refiner's Fire, and Winds of Change.
Currently, Father and I are creating the MAGDELA Series. This project is also a four-panel work depicting an allegory of the various Mary's who knew the Christ. Entitled Healed, Anointed, Crucifixion, and Resurrection, these paintings will be a narrative of the spiritual journey that we all take to God through Christ.
Worship & Drums
Worship is a huge aspect of fellowship in this Ekklesia. While I began at 17 on a drum kit playing rock'n'roll, I have since grown into worshipful hand drumming. I play the djembe, darbuka, conga, and various forms of sound effect instruments – bells, chimes, rattles, etc.
Blogging
Lastly, I am becoming a more consistent blogger. Recently I've added writing for the NW Ekklesia blog to my pair of blogs. I have an art blog, StudioNotes where I share the hows and whys of the art that Father and I create. And I produce a blog of faith, art, and convergence where I explore relational-faith and faith-driven artmaking at their confluence.
Faith&Art blog: https://creativeharmonies.wordpress.com/
Lew Curtiss/Visual Artist: https://lcurtiss.weebly.com/
The Hows and Whys: https://lcurtiss.weebly.com/studionotes