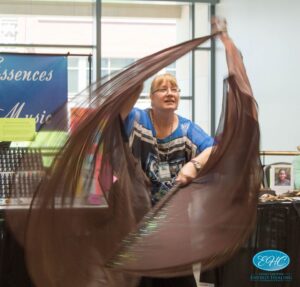 Del Hungerford is on the governing bench for NW Ekklesia. She's a prophetic instrumental musician, writer, and contributes to much of the materials available on NW Ekklesia. By profession, Del is a classical musician and teacher. She is one of the worship leaders with NW Ekklesia where she plays a variety of instruments to add to the unique nature of our worship.
Del operates and manages several websites where she posts cool information and sells her materials. She's written three books, all available on Amazon. They are "But Words Will Never Hurt Me" (her story of overcoming an abusive relationship and "Accessing the Kingdom Realms." The latter was written out of her journey into sonship. As a teacher, she's good at helping others go from point A to point B smoothly. She also wrote a book titled "Accessing Your Spiritual Inheritance" with Seneca Schurbon of Freedom Flowers and Alice Briggs of Emotional and Spiritual Healing. This was their first book into the depths of learning "kingdom" protocol. It, too, came out of experiences of developing intimacy with Yahweh.
On the NW Ekklesia website under the Shop page, you can purchase Del's spontaneous instrumental music, her teachings, and meditations over the top of her own music. They are listed under NWE Teachings, Kingdom Meditations, and Music 
Through Healing Frequencies Music, Del is committed to creating music that enhances cognitive function, heals the emotions, awakens intuition, and engages our senses, and ultimately bring us into the heart of YHVH. It's healing music that touches the whole person: body, mind, and spirit. Those who listen tell stories of finding peace, internal harmony, and revitalization. This website is for the general population and is frequented by massage therapists, yoga instructors, those who seek music for meditation, and others seeking healing music. Many who enjoy EMDR (bilateral) music have found her music helpful as they work through life's traumas.
Most of the music is recorded in A=432 and A=444 concert pitches (to match sounds found in nature and the cosmos). She also records with specific frequencies (such as 713 Hz). See the SAMPLES page for a list of albums, tunings, and main note used for each song. All the full album downloads are available on the shop page of NW Ekklesia.
The main frequency in the songs (listed next to the song title) is subtle and consistent throughout the length of the song. This replaces the need for a tone generator, which can often be very boring (or annoying) to listen to. All songs are long-play for the purpose of being therapeutic. During the recording process, Del tunes ascends into the heart of the Father to bring the prophetic side into her projects. Each "song" features a spontaneous instrumental piece based on a specific musical pitch.
In addition to the music, Del provides a lot of research on frequencies in her many blog posts.
Supernatural Lessons is designed to provide practice materials for your journey into Sonship with Yahweh. It is the sister site to Healing Frequencies Music. It's out of Del's own journey into Sonship that this music started to flow out. All of the background music for the activations and exercises on Supernatural Lessons is her prophetic instrumental worship music.
The website, Healing Frequencies Music, is for the general population whereas Supernatural Lessons is geared towards the believer. On the Supernatural Lessons site, Del also explores the spiritual side of what we see in nature and science. 
On the Product page, there are links to purchase classes, books, teachings, individual practice meditations, and music essences. Links to purchase Del's music are in the Music Store. 
Many of Del's materials from Supernatural Lessons are available in the NW Ekklesia store (shop page).