NW Ekklesia is full of amazing artists! In a sense, we are a kingdom-minded artist colony that operates in sound and frequency. We enjoy the many facets of "the arts" through drama, theater, music, painting, sculpting, making cool things out of most anything, dance, flagging, and much more. What we do is very unique! In fact, we haven't met anyone who does what we do.
This section of the website is to showcase those within the Ekklesia and others who associate with us that are working artists. Use the drop-down menu to see more about the artists.
Lew Curtiss

Lew Curtiss is a self-taught visual artist working in collage/mixed-media. He comes from a background in theatre, filmmaking, and photography. Working within his relationship with Father God,
his visual arts practice is entirely faith-driven. He is the author a book about this faith-driven creative journey Called The Table of Making.  He is also involved in many on-going activities of Northwest Ekklesia and participates as a drummer in the drum circle worship of Creation Sound.
You will find some of Lew's artwork at https://lcurtiss.weebly.com/
You can read about the how and why of his art at https://lcurtiss.weebly.com/studionotes
You can read Lew's blog at https://creativeharmonies.wordpress.com
Dinah Rau
Real art, for real people; from the heart.
She has spent many years in love with dreamy things like color, beauty, and the way the past becomes softened over time and gets fuzzy edges. Because of this, she has always tried to create from the inside out.
Her desire is to express what she feels, using acrylic on canvas, in the hope that someone else can feel the same wholeness or sense that they are not alone.
By applying poetic and symbolic visage to the realm of the subconscious, she invites the viewer to look deeper into one's self. Her work appears as dream-like images where fiction and reality meet, and long told stories fuse with the present, creating a reflective inner truth.
You can view her art at https://dinahrauart.com/
Del Hungerford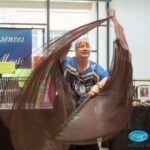 She's a prophetic instrumental musician, and writer. Del is a classical musician and teacher. She plays a variety of instruments.
She's written three books, all available on Amazon. They are "But Words Will Never Hurt Me" (her story of overcoming an abusive relationship and "Accessing the Kingdom Realms." Is her journey of spiritual growth.  She also wrote a book titled "Accessing Your Spiritual Inheritance" with Seneca Schurbon of Freedom Flowers and Alice Briggs of Emotional and Spiritual Healing. This was their first book into the depths of learning "kingdom" protocol. It, too, came out of experiences of developing intimacy with Yahweh.
You can purchase her offering on our  Shop page, you can purchase  They are listed under NWE Teachings, Kingdom Meditations, and Music 
You can find more of her music at https://www.healingfrequenciesmusic.com/
Her teachings are at https://www.supernaturallessons.com/